The Real Atlanta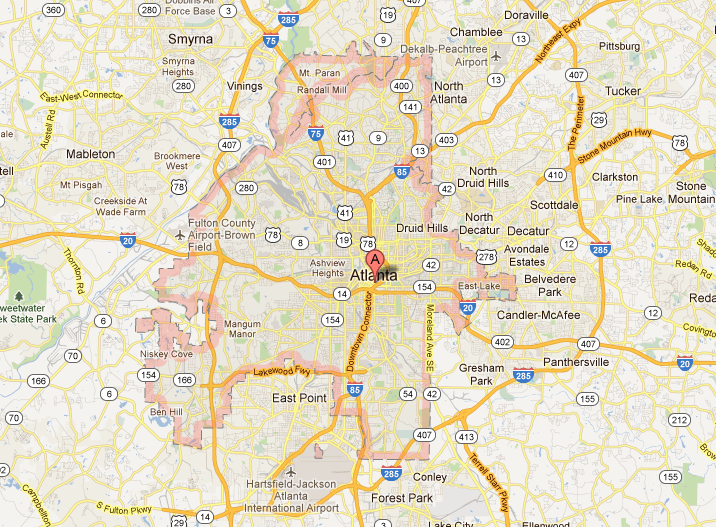 If you are looking for an American travel destination that offers the quintessential American experience, it is hard to beat Atlanta, Georgia. As one of the largest cities on the East Coast of America and one of the biggest centers of business, tourism, air travel and music in the country, Atlanta has a lot to offer travelers. Whether you are looking for arts, culture, entertainment, history, nightlife, sports or something unique and bizarre, you can find it in Atlanta.
The Diversity of Atlanta

With a population of over five-million people from around the world, Atlanta is a melting pot of cultures and interests. This is evident in the dining, arts and entertainment scene of the city. From the Atlanta Underground Film Festival to the Festival Peachtree Latino, this city's diverse cultural roots are apparent everywhere you go. For travelers, this offers a unique way to experience facets of every part of America and many corners of the world in one bustling and vibrant vacation destination. The city is also a global recording center for music spanning nearly all genres. Whether you are looking for the heavy beats of hip-hop, the blazing riffs of rock and metal or the soothing sounds of the symphony, finding a live show nearly any night of the week is simple.

Atlanta – the City in the Forest

One of the first things you will notice about Atlanta is its abundance of trees and greenery. This earned the city the nickname 'The City in the Forest.' If you are looking for a vacation destination that offers the excitement of big city life with an abundance of outdoor recreation and opportunities, Atlanta is the place to visit. The Atlanta Botanical Garden and Canopy Walk are two must-see destinations for any nature lover vacationing in Atlanta. With over 300 parks, nature preserves, gardens and public spaces, there is always something to do in the warm Georgia sun.

Family Friendly Atlanta

When it comes to family-friendly American tourist destinations, Atlanta offers endless opportunities for everyone to have a great time. Popular attractions include the Georgia Aquarium, Stone Mountain Park, Imagine It! Children's Museum of Atlanta, World of Coca-Cola and the Center for Puppetry Arts. If you are looking for a vacation spot that offers exceptional family attractions and great nightlife for mom and dad, look no further than Atlanta. Many of Atlanta's most popular attractions are free; plenty of others have admission prices under $10. This makes it easy to keep your vacation packed with fun without having to sacrifice in other areas.

 

Atlanta and the Arts

From the performing arts to works of art, no matter what facet of art speaks to you, you will be sure to find something that peaks your interests in Atlanta. This city is bustling cultural center, bursting with opportunities to enjoy the arts. If you want to explore some priceless and breathtaking works of art, plan a visit to one of the city's art museums. The High Museum of Art, Atlanta, houses an assortment of art work, ranging from Picasso to Warhol and virtually everything in between. If you enjoy modern art, take a trip to the Museum of Contemporary Art of Georgia; more affectionately known as the MOCA GA. Here, you will find various displays of contemporary pieces, including paintings, photography and sculptures. Travelers who enjoy the performing arts will find several opportunities to enjoy this art form in Atlanta. The Woodruff Arts Center is home to a collection of performing arts, including the Alliance Theatre and the Atlanta Symphony Orchestra. Here, you can take in live theatrical performances, be serenaded to the delightful tunes of the symphony or even hear jazz quartets perform lively and upbeat ditties. The Variety Playhouse is another spot where you can be entertained by the performing arts. This playhouse is the site of an array of live theater productions, which are ever-changing. The renowned Fox Theatre is another location where you can see a variety of types of performing arts shows, including big named rock stars and interpretive dance. From priceless collections of artwork to various types of performing arts, Atlanta brings the arts to life in a multitude of ways.
Whether you are looking to visit a place where you can enjoy the great outdoors, you want to experience cultures from around the world, or you want to explore the arts, Atlanta is an ideal vacation destination for you. No matter what type of group you are traveling with – friends, family or a significant other – you will more than please and offer you an unforgettable experience.