The Top 3 Downtown Atlanta Hotels
With so much to do throughout Atlanta, Georgia, where you choose to stay for your next vacation could mean the difference between an effortless, fun vacation and a logistical nightmare. If you plan to visit sites in and around Downtown Atlanta, staying in one of the many Downtown Atlanta hotels is the way to go. While the prices might be a little higher than staying in and outlying suburb, you will have access to a near-endless list of destinations within a short walk or drive from your room. These three Downtown Atlanta Hotels are at the top of Rediscover Atlanta's list for their convenience, service and overall guest experience.
Downtown Atlanta Hotels #3: W Atlanta Downtown
This newly built hotel offers great customer service, a modern urban décor and a list of amenities that rival the best hotels anywhere. If you are looking for a stunning view, reserve a room towards the top of the building. The view of Coca-Cola World and nearby freeways cannot be beat. This hotel is within a short walk of some of Atlanta's best attractions and services, though restaurant options are limited unless you are willing to travel about one-half mile away.
Amenities include:
Business Center
Restaurant
Suites
Fitness Center
Room Service
Indoor Swimming Pool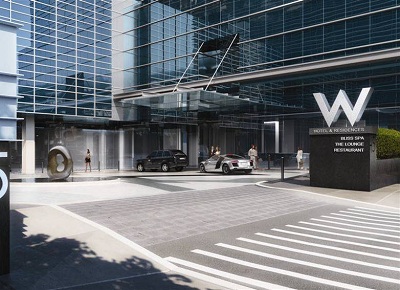 Downtown Atlanta Hotels #2: Marriott Marquis Atlanta
As part of the Peachtree complex, the Marriott Marquis Atlanta is the perfect hotel for those looking for gracious amenities and luxuries and easy walking access to a variety of sites and services. Like many Downtown Atlanta hotels, the views from the upper floors are amazing and the catwalks between surrounding buildings are ideal for getting around the surrounding area on foot. This hotel is one of the most popular Downtown Atlanta Hotels when conventions are in town, so booking in advance is highly recommended if possible.
Amenities include:
Business Center
Restaurant
Suites
Fitness Center
Room Service
Indoor Swimming Pool
Free Breakfast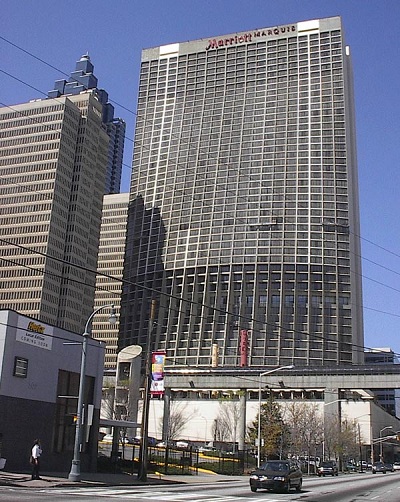 Downtown Atlanta Hotels #1: The Ritz-Carlton Atlanta
From luxurious furnishings and personalized service to convenient access to the surrounding town, the Ritz-Carlton Atlanta takes the number one spot on our list of Downtown Atlanta Hotels with ease. If you are looking for a hotel room that you will not soon forget with services that make you and the family feel like royalty, look no further than the Ritz-Carlton Atlanta
Amenities include:
Business Center
Restaurant
Suites
Fitness Center
Room Service
Bar and Lounge