The Atlanta Georgia Aquarium: An Aquarium like No Other
The Atlanta Georgia Aquarium is not just a place with a few fish and some pretty sights; it is the largest indoor aquarium in the world. In just under a decade, the Atlanta Georgia Aquarium has attracted over 11-million visitors, opened a 10,000-square foot aquatic animal health center and created a diverse number of programs and rotating exhibits the make visitors a part of the action. You do not just walk through and look at exhibits; you interact with animals, trainers and professionals throughout the aquarium.
Create Lasting Memories with an Atlanta Georgia Aquarium Sleepover
How many people can claim they have slept next to a shark or enjoyed dinner with dolphins? Throughout the year, Atlanta Georgia Aquarium offers adult and family sleepover nights that offer an exclusive glimpse behind the scenes of the aquarium and allow you and your family to sleep next to some of the aquarium's most exciting exhibits. For a price comparable to many hotels in the city, you or your entire family can enjoy this truly one of a kind experience during your next visit to Atlanta.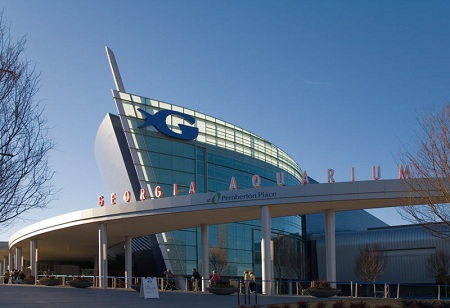 Exciting Shows at the Atlanta Georgia Aquarium
There is more to the Atlanta Georgia Aquarium than tanks and exhibits. There are a number of live shows offered throughout the day for your fun and entertainment as well. Two of the most popular shows are Dolphin Tales and Deepo's Undersea 3D Wondershow. These shows often sell out quickly, so if you are hoping to catch a showing, be sure to book your reservations in advance.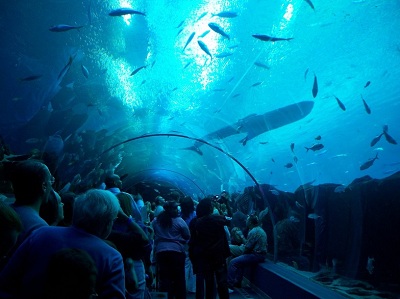 Dolphin Tales offers a stunning look at the relationship and interaction between humans and dolphins. This Atlanta Georgia Aquarium exclusive features stunning videos and demonstrations to up-close encounters with the animals themselves, you will never look at dolphins the same way again. The show features state of the art special effects, a symphonic soundtrack and engaging plots to keep you on the edge of your seat from start to finish.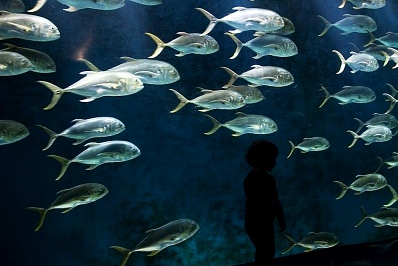 Deepo's Undersea 3D Wondershow is an immersive 4D movie experience offered at Atlanta Georgia Aquarium. A massive wrap-around screen immerses the senses in this stunning tour of the deep. Environmental effects and motorized seating make every dive and twirl of the screen feel real. Using state of the art technology, viewers are taken deep under the sea to experience unique aquatic worlds in a way never before possible. This is certainly one of the must-see attractions of the Atlanta Georgia Aquarium.